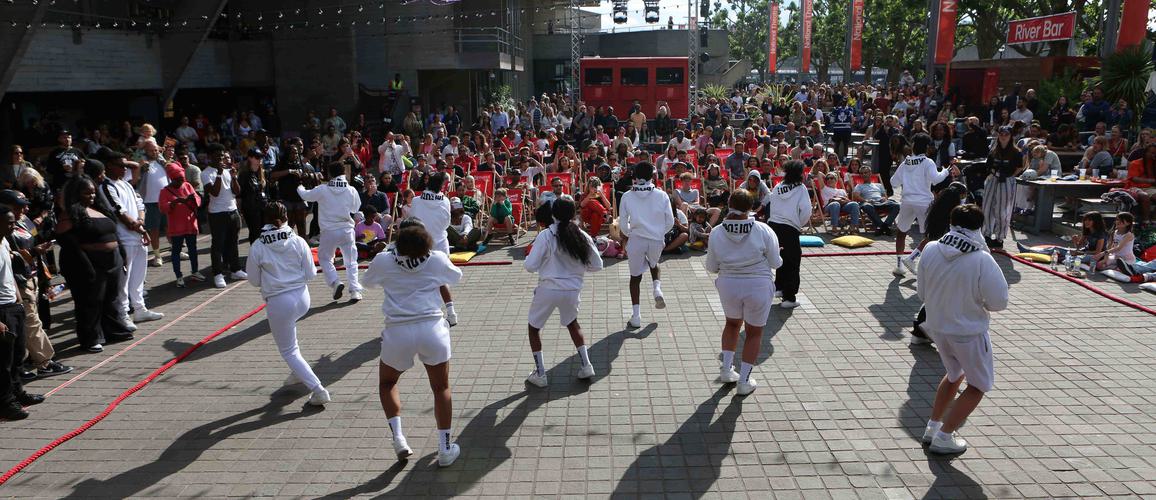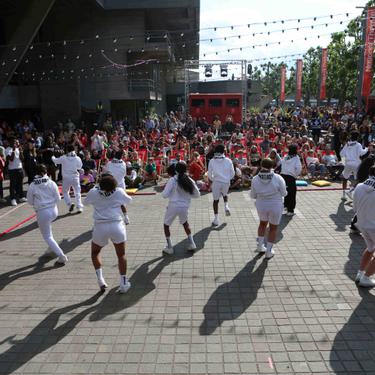 Our Young Producers Takeover River Stage 2023
News
19 Jul 2023
News Story
By Laila Yakubu
Over 9 months of planning. 3 action packed days. Young people of Hackney. The National Theatre. For the second year in a row, we, the Hackney Empire Young Producers were invited by the National Theatre to programme and curate a weekend at River Stage, a 3-day festival showcasing the greatest new talent that is ingrained in this new generation of creatives. Hosted by the hilarious Scully, this festival was a breath of fresh air and vibes from the young trailblazers at Hackney Empire.

As a Young Producer, we had to source new talent and sounds, scouring Instagram and TikTok for the best creatives on the come up. We also had to look internally, as Hackney Empire is a true melting pot of talent and it would be a disservice to not honour the breadth of talent. On the Friday, Alter Ego 2023 winners Skadeuces, founded by Khalif-Shakeil Edwards, Hackney Empire Creative Futures Alumni, started the weekend with a bang, wowing our audience with flips galore and the coldest choreography. One audience member said, "I wish I could flip like that when I was 14." Same.

As we were invited back, we had to bring back some audience favourites such as Tracks on Tap, who showcased new artists with sickening flows, wordplay and vibes.

Speaking of vibes, we had to bring back the Pure Vibes Emerging talent, ranging from the boldest upcoming poets, rappers, singers and spoken word artists. The eloquent Ade Oyejobi had the audience entranced by his way with words and Alana's original melodies had us shining.

Headlining the event was Kali Claire, an R&B artist that has worked with the likes of Alicia Keys and is a Hackney Empire Creative Futures Alumni, and we saw Pat perform TikTok sensation, White Air Forces, that had our audience singing along.

Incredible Djs DJ Pebz, DJ Mimi Rich and Girls of Grime brought the energy at the end of the days, lighting up the Southbank with their classic mixes and throwbacks.

With such incredible acts that are impossible to contain in this post, we the multitalented young people of Hackney Empire and the receptive audience of the Southbank, River Stage 2023 was truly one for the books! It was an honour to take up that space and be trusted with a whole weekend. We all learnt so much about what makes a good festival weekend, how to run events, look after social media & liaise with artists and managers. We hope the National Theatre bring us back to paint Central London with the greatness of the City!
Image gallery