Schools, colleges & work experience
Our work in schools and colleges is a key part of us taking Hackney Empire out of the building, and into our community.
We offer music, dance and drama workshops and projects to every secondary school and college in Hackney for free. We provide focused support for the curriculum itself and young people's needs beyond it. Our work in schools and colleges aims to build trust with young people by going to them, as well as supporting teachers to deliver the most effective arts curriculum possible. Every programme is tailor-made specifically for targeted groups alongside teachers.
To find out more about our schools and colleges programme and how to get your school or college involved, please get in contact via the form below.
"Hackney Empire are an invaluable resource for our community for access to live theatre, curriculum support and enrichment beyond school hours. Their practitioners and programmes are incredibly diverse and provide role models and inspiration for considering a career in the arts"

Paul Mcintyre, The Urswick School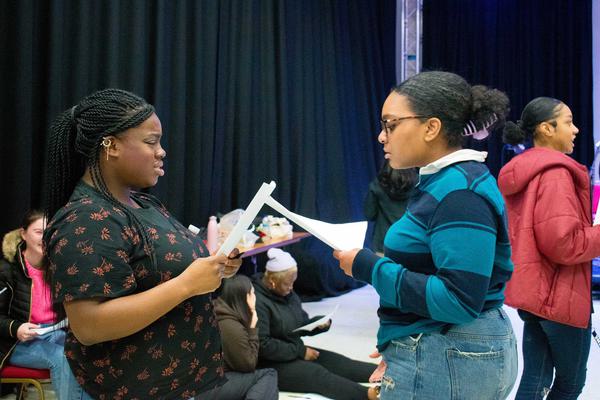 Work Experience
Our work experience programme runs for 1 week in July each year.
Work experience at Hackney Empire is a great way to learn more about different careers in theatre, as well as develop valuable skills and knowledge that will help you in any workplace. Throughout your week with us you will:
Get to know the Hackney Empire Team, and learn about how their roles helps the theatre run

Gain behind the scenes access to Hackney Empire, seeing our beautiful theatre from a unique perspective
Work alongside peers who are also interested in careers in theatre
Work as a team to develop project ideas and pitches
Receive careers guidance, advice and support from the Learning and Participation team

If you are a student or teacher and want to know more about work experience at Hackney Empire, please get in contact via the form below.